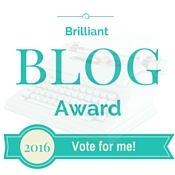 Well this is fun! My website has been selected as the August winner of the
Brilliant Blog Award
and is in the running for the Blog of the Year Award. I'm so honored and humbled by this.
My friend, best-selling author and fellow blogger herself, Karla Akins hosts the Brilliant Blog Award and last month she goofed and didn't choose a brilliant blog. However, she made up for it and wrote the sweetest blog about my blog.
You can check it out here:
http://karlaakins.com/wilburnblog/
Now don't go thinking that because I'm friends with her that I had inside pull on winning this award. I didn't. Frankly, I had no idea that she still did the Brilliant Blog Award (shows how much attention I pay). Karla chose my blog simply because she believes in my ministry and wants people to be inspired as much as I do.
Now here's where you all come in; this contest isn't over. You can help my website win the Blog of the Year Award for 2016. All you have to do is slide on over to the right hand column or at the top of this post and click the Brilliant Blog Award button! Every person who puts in my website votes for my blog. Karla will announce the winner at the end of the year.
What's in it for me? Just a pretty little button on my website that says I'm a winner. Also I get the recognition that my blog is brilliant not just in looks but in content.
So will you help me? Will you click the Brilliant Blog Award button and vote for me? Send your friends to the website to vote, too. Also, leave a comment at the end of this post and let me know your thoughts. And if you want to know more about my ministry and what I'm doing as a writer, register to receive my email newsletter. The registration form is also at the top of the right hand column.
Don't miss out! There are loads of things going on in this writer's world. I would love to have company on my journey. Won't you join me?
Let's Walk Healed together!
Shelley